Thaumium fortress armour has the same protection per-piece as diamond armour with the added bonus of every thaumium fortress armour piece boosting the protection of all of the other pieces. Also, the armour provides extra magic and fire protection. Like most thaumium items, they can be enchanted easily. They can also have different masks attached to provide different effects.
Research:
Edit
This research becomes available after Infusion Enchanting is completed and a regular thaumium set has been scanned with the Thaumometer .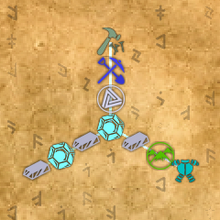 Crafting:
Edit
All these items are created at the Infusion Altar.
Thaumium Fortress Helm:
Edit
Target: Thaumium Helmet
Emerald
2 Thaumium ingots
2 Gold ingots
Essentia:
24 Metallum
16 Tutamen
16 Praecantatio
Thaumium Fortress Chestplate:
Edit
Target: Thaumium Chestplate
Leather
Gold ingot
4 Thaumium ingots.
Essentia:
24 Metallum
24 Tutamen
16 Praecantatio
Thaumium Fortress Thigh Guards:
Edit
Target: Thaumium Leggings
1 Gold ingot
1 Leather
3 Thaumium ingots
Essentia:
24 Metallum
20 Tutamen
16 Praecantatio