The
Arcane Ear
is a block that will emit a strong redstone signal when it's matching Note Block is triggered within a 64 block radius, creating a sort of wireless redstone. You can tune the pitch and instrument the Arcane Ear listens for just as you would a Note Block. The
Goggles of Revealing
may be worn to show which pitch it listens for.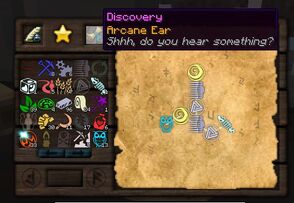 "The arcane ear is a device capable of detecting the sound emitted from nearby note blocks. If it hears a note it recognizes, it will release a short redstone pulse."
Crafting
Edit
You need to use an arcane workbench to craft this. It is crafted like so:
Ad blocker interference detected!
Wikia is a free-to-use site that makes money from advertising. We have a modified experience for viewers using ad blockers

Wikia is not accessible if you've made further modifications. Remove the custom ad blocker rule(s) and the page will load as expected.