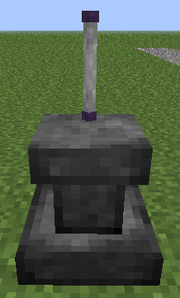 This page is dedicated towards the many different add-ons for Thaumcraft While it's a component rather than an add-on, Baubles is a mod developed by the creator of Thaumcraft (Azanor) as an API for adding bits of jewelry to your game. It is a separate mod to Thaumcraft, but it is automatically downloaded when you run Minecraft with Thaumcraft installed. The way it works is by adding a new inventory which is accessed by default by pressing "b".
It is also available as a separate download for those who may need it installed for other mods. Download Baubles from here.
Mods Supporting Baubles
Edit
Mods with Thaumcraft support
Edit
Bridge Mods
Edit
Other Mods
Edit
These each have at least Thaumcraft aspects for their items, and some add crossover items or mechanics.
Future Thaumcraft add-ons
Edit
Ad blocker interference detected!
Wikia is a free-to-use site that makes money from advertising. We have a modified experience for viewers using ad blockers

Wikia is not accessible if you've made further modifications. Remove the custom ad blocker rule(s) and the page will load as expected.